Lebanon County Career and Technology Center
Because uniforms are custom ordered, items are not returnable. Samples for sizing are availble at Major League. Please allow approx. 2 weeks for completion of your order.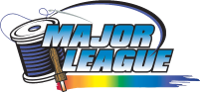 It is recommended that students have a minimum of 2 scrub tops, 2 scrub pants and 2 polo shirts. Jackets are optional.

Major League Screen Printing & Embroidery, Inc.
19 S. 5th Ave, Lebanon, PA 17042
Call (717) 270-9511, M-F, 8am - 5pm EST